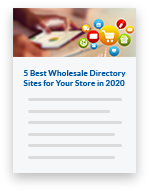 GET A PRINT VERSION
Download a PDF version for easier offline reading and sharing with coworkers.
Add your info below to have the PDF sent to your inbox.
Selling wholesale products is one of the effective and profitable business models as it enables you to make your products available to a large consumer base without having to market excessively to the end-users. Generally, selling wholesale required on-site business operations. However, as technology disrupted the industry, companies started to tap in the digital marketplace.
It's an irrefutable fact that market research is the cornerstone of business success irrespective of the industry it is operational in. This recipe for success requires companies to explore the niche, analyze product demand, study the competitors, gather consumer insights, and explore buying patterns, etc. Notwithstanding, the critical factor which is often overlooked is product sourcing especially in the wholesale industry.
Product sourcing in the wholesale industry not only affects the variety of products made available to your customers but also has a great impact on your profitability. Furthermore, relying on just a single product source or wholesale directory isn't a viable strategy as well.
Having a single product source is the same as keeping all eggs in one basket. You need to consider multiple alternatives to acknowledge a variety in inventory selection and increase your leverage when it comes to bargain. 
In this article, we would be presenting 5 best wholesale directory sites for your store that you should consider sourcing from in 2020. The wholesale directories are not listed in ascending or descending order, we have compiled a list after thorough research to facilitate wholesalers that seek decent product sources.
1. WholesaleCentral
WholesaleCentral.com is a B2B wholesale directory that facilitates both wholesale suppliers and retailers. WholesaleCentral serves as a platform for retailers to find suppliers and helps suppliers get more business. Not only this, but the site also helps you find hot-selling products by exploring different categories. When you find a supplier, WholesaleCentral routes you to their site where you can negotiate with them directly.
WholesaleCentral is one of the oldest wholesale directories with countless products and a lot of verified suppliers to choose from. Furthermore, whether you register as a retailer or a supplier, you would get access to WholesaleCentral's product locator service and verified supplier list. Unlike the wholesale directory aforementioned, WholesaleCentral is a magazine that utilizes the monetization model of selling listings to companies. The platform doesn't charge anything from its users.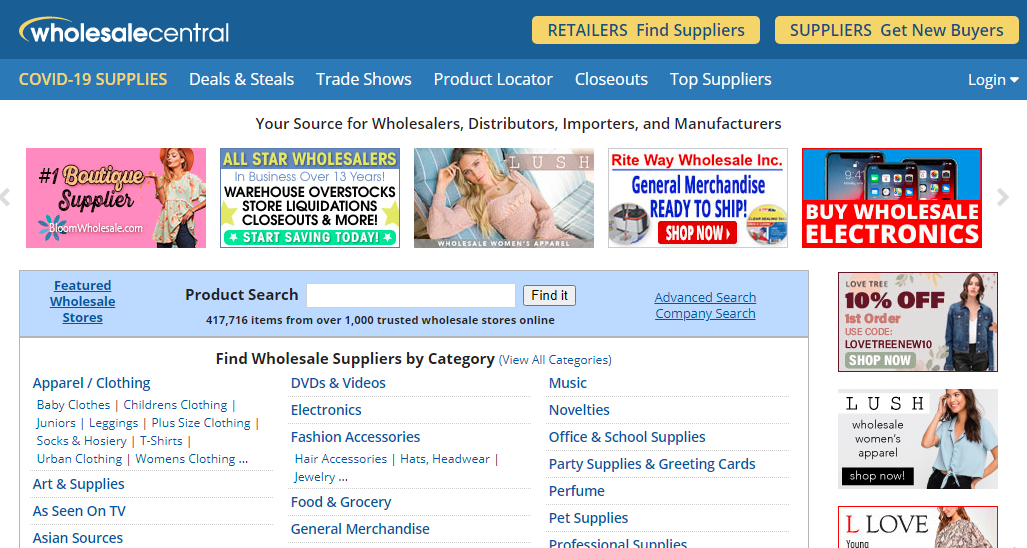 However, this platform is not for the new players in the wholesale industry as one may have to put in a lot of effort to connect with the suppliers. It doesn't host seminars or has a knowledge-base to help you find and shortlist products for your store. Neither would it provide any guidelines on selecting a source of your stock inventory. To utilize WholesaleCentral to its full potential, you'll have to come prepared. 
Pricing Plans:
2. Alibaba
Any list containing top wholesale directories would be incomplete without Alibaba.com. Alibaba is one of the best online wholesale directories with millions of suppliers and product listings. It won't be wrong to say that when it comes to suppliers and products available, Alibaba probably beats all other online directories. Alibaba is operational in more than 200 countries and has suppliers listed from all over the world.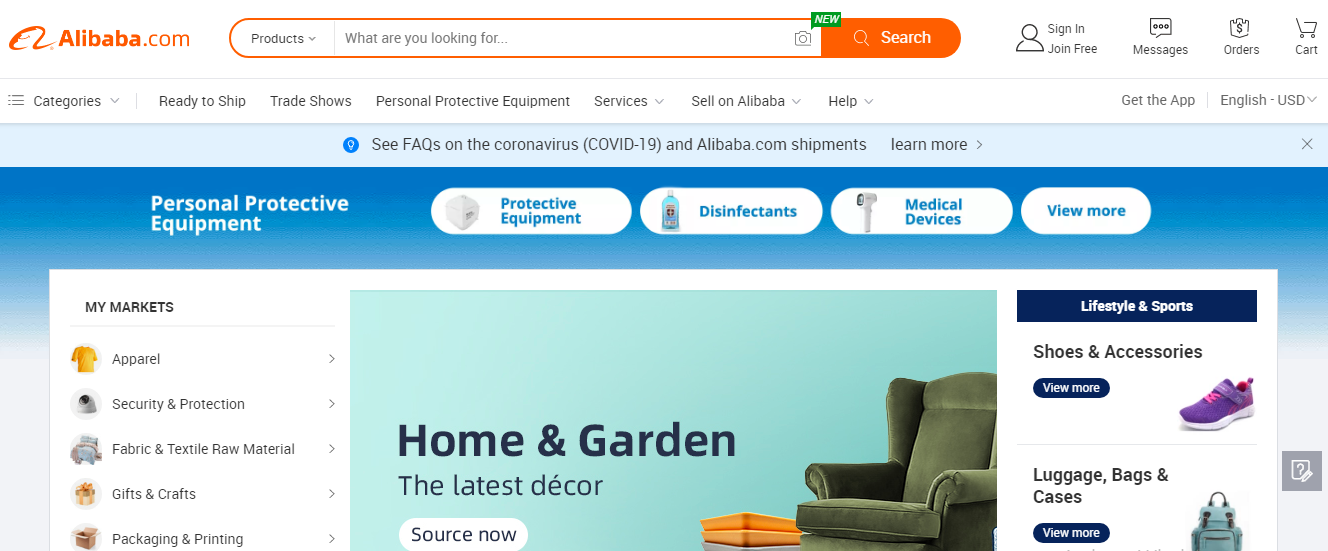 The website has 17 language options, countless product categories, and diverse marketplaces. The platform is highly recommended for newbies in the wholesale industry as it is really easy-to-use. You can register with Alibaba as a buyer or seller, the platform doesn't charge you for either of the subscription choices.
Pricing Plans:
3. SaleHoo
Founded by Simon Slade and Mark Ling, SaleHoo.com is one of the renowned wholesale directories with more than 8,000 verified wholesalers and suppliers. Based in New Zealand, SaleHoo serves not only as a platform but also as a community for wholesalers from around the globe – housing a wide range of products that serve a variety of niche categories.
With an advanced search feature and more than 1.6 million listed products, SaleHoo enables wholesalers to explore market trends and find hot-selling products that are in demand. The platform also facilitates wholesalers to explore products with a high-profit margin or sell-through rate. If you are new in the wholesale industry, SaleHoo can be a great place to explore different niche ideas, find winning products, and identify supply options by comparing the cost of stock inventory.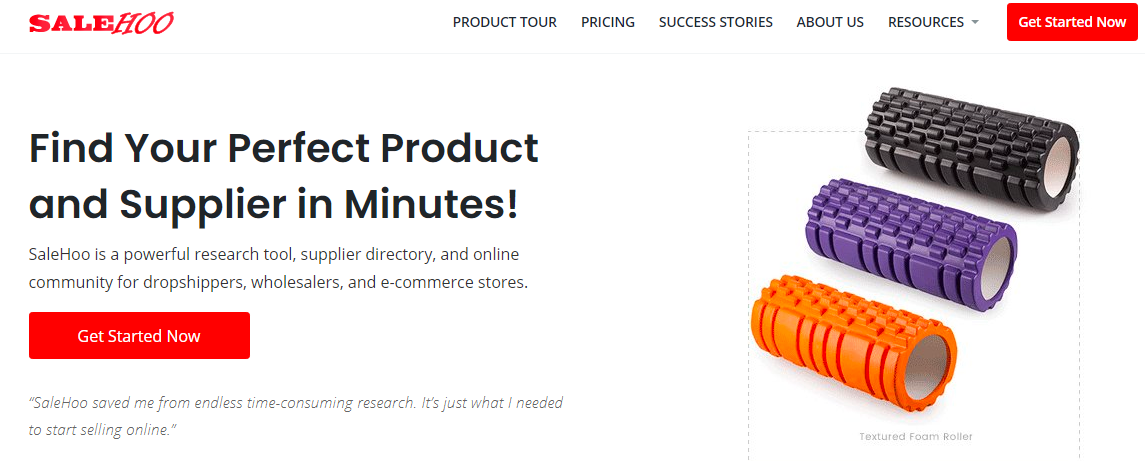 SaleHoo also hosts training seminars for rookie wholesalers along and has a knowledge-base containing a variety of video tutorials. The platform has a step-by-step training guide to help online sellers with finding in-demand products, selecting suppliers, and other business tactics to get them started.
Pricing Plans:
$67 annual plan

$127 for lifetime access
4. WorldwideBrands
With more than 8,000 trusted suppliers and thousands of products to choose from, WorldwideBrands.com came to be in 1999. The platform quickly came into the limelight as it was the brainchild of one of eBay's PowerSellers, Chris Malta. WorldwideBrands take their verification process to another level by vetting supply sources on a personal level – this includes factory visits and performing quality checks on products listed.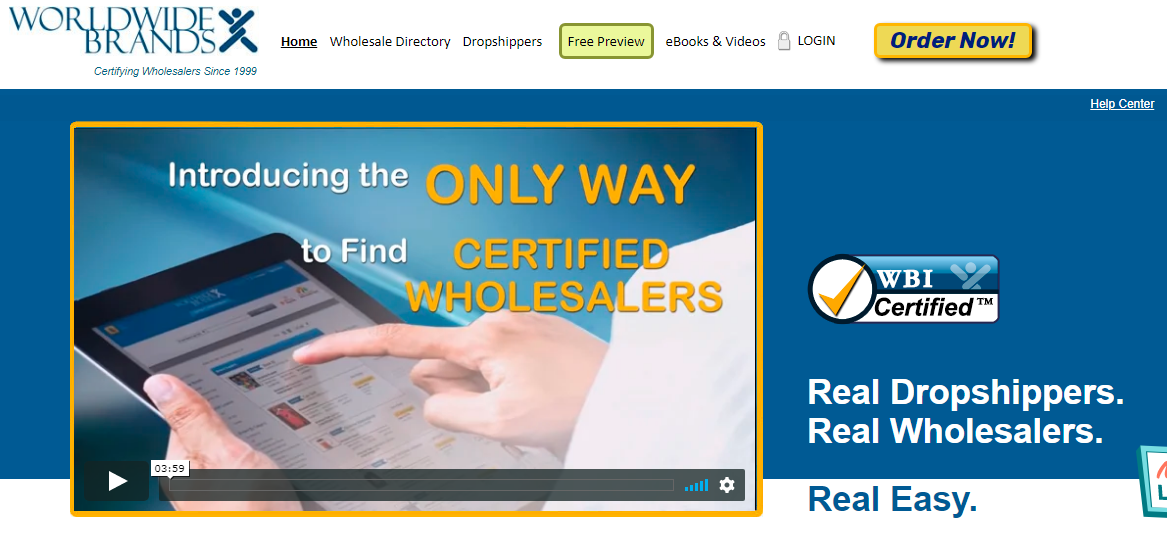 Despite being one of the premium platforms in the wholesale industry, WorldwideBrands is preferred by wholesalers and online businesses around the globe because of trusted wholesale listings and a variety of product categories. Though, the directory might not seem feasible for businesses that are just getting started.
Furthermore, the platform seems to be least preferred by drop-shippers as most of them like to start with small orders. The suppliers listed on WorldwideBrands would only be feasible in terms of pricing if you place bulk orders or make large purchases. All-in-all, a decent wholesale directory to be associated with, if you've had some e-commerce exposure.
Pricing Plans:
$299 for lifetime access.
5. TopTenWholesale
TopTenWholesale.com is a web-based B2B platform that helps people find wholesalers, importers, distributors, and drop-shippers. TopTenWholesale has thousands of verified suppliers and millions of products to choose from. Just like other top wholesale directories, TopTenWholesale has a supplier verification process that vets the authenticity of the seller.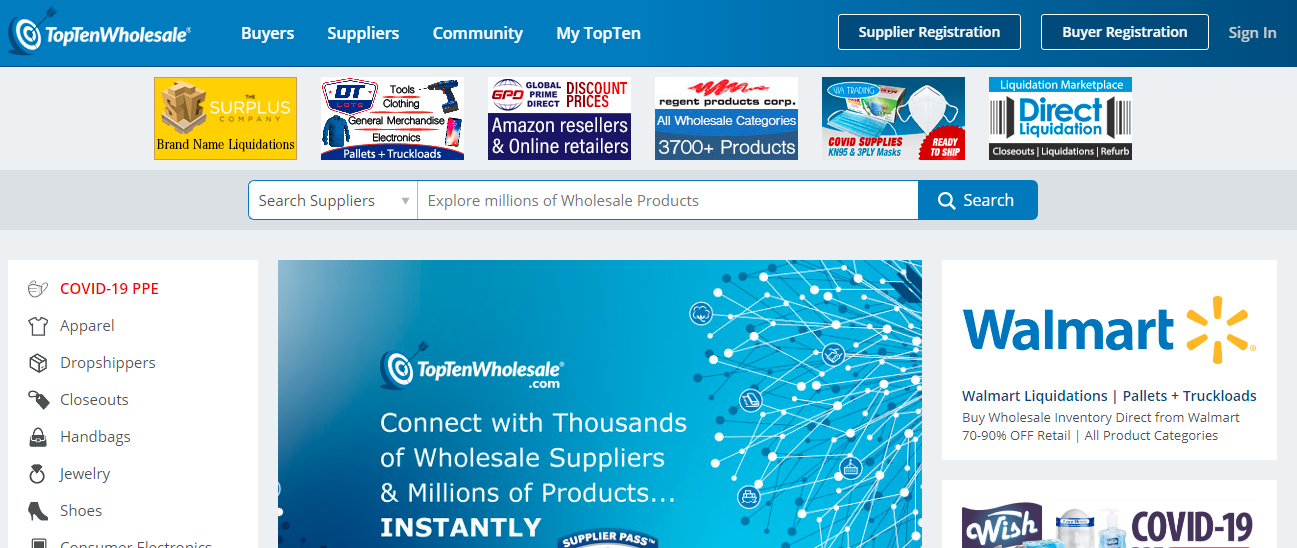 Unlike other wholesale directories, the motto of TopTenWholesale is a bit different. It serves more like a community for wholesalers and buyers that facilitates their interaction rather than just a source that provides information about product listings. This makes it one of the leading B2B wholesale platforms in the United States to serve millions of users.
Pricing Plans:
Wrap Up
In this article, we tried to provide you with a list of 5 best wholesale directory sites for your store in 2020. The platforms selected were shortlisted based on different factors such as supplier count, product availability, user-friendliness, and the tendency of the site to serve as a community – facilitating buyer and supplier interaction. Are you satisfied with our selection? Let us know in the comment section below.